Today, I spoke with Andrea Kay, who is one of the nations most well-known and respected career experts.   We discuss why people don't like work, kill the myth of work/life balance and discuss various tips you can use to turn your passion into money!   Andrea is here to give you hope, despite the bad economy and to give you some great advice about what you can start doing today to make a difference in your own life.
Andrea, does work have to be a bitch?
Absolutely not! Of course, nothing is perfect. No matter how much you enjoy your work and career, you will have annoying moments, difficult interactions and duties you don't  relish. But your career doesn't have to be so bad that you suffer because of it–which is what is happening. The complaints, frustrations and feelings about things being unfair and a "bitch" have become louder than ever.
People subscribe to the understanding that the work relationship is one of exchange. But that relationship is off kilter, with workers feeling there's a big imbalance in the relationship between them and the workplace. They feel they have no life, due to the perception or reality that they have to work more or be constantly connected to work. They feel companies don't care—that companies treat them like inventory. They feel they are working harder and getting less. In the job hunt, they feel like they're treated badly. They feel helpless and powerless. All of this—and more I talk about in the book—can add up to bad days at the office and a lamentable career outlook.
But there are six steps you can take to lesson, even eliminate your suffering—despite everything that is wrong and broken in the workplace. Even though there are many forces you don't control, there is plenty you can do to stop your work and career from being a bitch.
"The first one this: Decide to start where things are, not where you think they should be."
You may think something is unfair or shouldn't be the way it is. That may be, but unless you decide to examine how else you could look at the situation and then change what you're doing about it–nothing will be different and you will be pissed off and powerless.
What types of work do you consider would "be a bitch" and why?
It's not a matter of the type of work someone does that's a bitch. It's circumstance, situations and treatment that make things seem intolerable. There are interactions with certain customers and co-workers. Bosses that can't think their way out of a paper bag. Managers who don't keep promises. Poor references when you're job hunting. Not knowing where you stand in your company.
Interview processes. People who don't do what they say they will do. Being fired. Not getting  recognition. Not feeling secure about your career, where you fit or how to stay valuable. Being replaced by technology. Not getting a response when job hunting. Constantly being barraged by technology—cell phone, e-mail, Blackberries. Not feeling like you can contribute, speak your mind and do good work.
What tips do you have for people who want to make money doing what they love, but have financial problems and a weak degree?  Basically, someone who feels forced into a corner, and has given up both hope and confidence in their career.
A degree and finances is not what stops someone from making money doing what they love.
"What stops them is clarity about how what they love to do fits into the marketplace."
Why would someone pay you to do this work? Then it takes a step-by-step plan and strategy to get there. If you need more or different training, that's part of the plan. You may or may not need that.
Look at how you got "forced into a corner." What did you give up? What didn't you know or do? Unless someone is holding a gun to your head, you're free to make a plan and work it. Get to it. You can do anything. But it does take work, planning, sticking to your plan, strategic marketing, focus and patience. Why would you give up what you want? Have you done everything you can to get it? Probably not.
How would someone create a work environment that makes sense for them?
"The question you need to ask yourself, is what kind of environment do I like to work in?"
Being inside, outside or a combination. Do you want to be in a lab or an office? Do you want a lot of structure?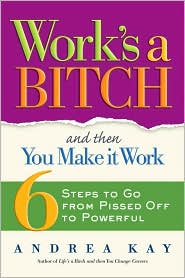 Do you want a more formal and hierarchical environment. What's your ideal?
Is work/life balance dead?  Is it still possible to manage your work life and social life, even in a poor economy?
To me, the notion of trying to find, have or get "work/life balance" is silly. It just isn't a thing. The idea notion of  "work/life balance" implies that it's something "out there" that you can strive for and get. That if you spend less time connected to work, you'll have "it." That's not how it works.
"You find balance in knowing what matters to you."
If you know what matters most to you in life, then you live your life accordingly and won't need to seek "work/life balance." I have an exercise in my book to help people understand this. What's the economy have to do with it?
———
Andrea Kay is a career consultant and executive coach who has helped thousands of job hunters and employees cut to the heart of their frustration and dissatisfaction to take control of their careers. She has published five books, including her latest one called Work's a Bitch and Then You Make It Work: 6 steps to go from Pissed off to Powerful.    Andrea has presented workshops and counseled employees at such companies as Procter & Gamble, Apple Computers, Westinghouse, Frito-Lay, and General Electric.