Today, I spoke with Lewis Howes, who just published his own book on LinkedIn called LinkedWorking and is famous for his high aptitude as a LinkedIn user.  He knows all the ins and outs of building LinkedIn groups and has leveraged the power of these communities to starts events with thousands of attendees.  In this interview, I get some insight into the importance of LinkedIn, and what we should expect to see in his book.

If LinkedIn was so important, why does Facebook have many times more people on it?
Facebook started off for college students and they have a lot of things that create viral buzz.  They have pictures, videos, tags, and thousands of apps that people can use to connect with friends.
LinkedIn did not start off that way. However, due the to job market/ economy/ and the addition of more helpful applications it is starting to grow its membership at 1.5 million people per month, and I believe that will continue to increase.
Do you think people are taking the easy way out by just connecting online?  What is the value in offline relationships?
Offline relationships are the most important types of relationships! There is only so much you can do when you connect with someone online, but when you take it offline you are able to read into people so much more, and build up lasting relationships faster.  That's one of the reasons I host live networking events around the country, to help these relationships grow.  

Can you name your favorite concept in your book and describe it?
Be concise, compelling, and value driven. We live in an age where people want to know the information they need RIGHT NOW so you need to be concise or you will lose them.  If you are not interesting and compelling then that will be boring and no one will remark on what you do.  And if you don't provide eye-popping value you are wasting the time of others and they will never think of you as a resource again.
Explain why people who are happily employed should be using LinkedIn, even if they aren't actively looking for a job.
There is zero job security today, so even if they are happily employed this could change at any moment because they don't have control over the companies future.  Due to this fact, your network is the most important asset when looking for a job.  The larger and stronger your network is on and offline, the greater your chances of finding and having a job whenever you want and need one.
What are your top 3 secrets for LinkedIn?
The top 3 secrets I'll let people read in my book 😉 but the next three would be this:
Increase Your Connections: Add every contact you have from every email server you use.  Even if you don't know each person extremely well this will do two things for you:  1.  Expand your 2nd and 3rd degree connections and 2.  Allow for more people to find and contact you for your services/products, and visa versa
Answer Questions: Do so without being spammy or promoting your services.  I know one web developer who answers 3 questions a week and provides amazing value… in return he has received 3 consulting gigs a month for the last five months in a row now.
Read linkedworking.com: Here you will receive my secrets and advice updated on a weekly basis. (# 2 was really two secrets in one so be sure to pick up the book or read the site for more 😉
—–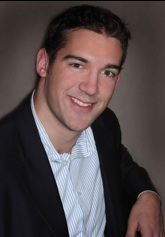 Lewis Howes is the co-author of LinkedWorking: Generating Opportunities, Contacts and Success on the World's Most Popular Business-Oriented Networking Website, and the author of the online newsletter, Sports Networker, where he draws from his experience, knowledge and contacts as a professional football player.  In addition to this book, he helps professionals and companies achieve greater return on the time they devote to LinkedIn and other social networking through his acclaimed training seminars, one-on-one coaching sessions and corporate consulting programs.  He also creates opportunities for online connections to gather face-to-face through his live "LinkedWorking" events around the country.